Dunfermline Historical Society
About this Organisation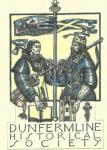 The Dunfermline Historical Society organises talks and visits for people with an interest in local and national history.
Our talks programme runs from September to May each year and meetings are usually held on the third Thursday of the month, at 7:30pm, in the Abbey Church Halls, Abbey Park Place, Dunfermline.
The Society operates a website which, in addition to publicising society events, publishes articles on local history written by members and others. There are currently more than fifty articles available with further additions planned.
Organisation Type
Local History Society/Association/Group
Other Information
Entry last updated: May 20th, 2019