Listen Up! - HMS Tarlair and Memories of the Hawkcraig Admiralty Experimental Establishment Station, Aberdour, Fife, 1915-1918
About this Resource
At the beginning of the First World War the German U-boat had become a major threat. Its large-scale destruction of merchant shipping caused not only great loss of life but also a fear that the British population would be fatally starved of materials and food.
Between 1915 and 1918 the Admiralty Experimental Establishment Station located at Hawkcraig Point in Aberdour on the Firth of Forth was the centre of a highly concentrated effort to defeat the German U-boats. It was the Navy's main hydrophone research and training base. These hydrophones (or underwater microphone receivers) were the forerunner of today's sophisticated sonar systems.
The naval establishment was named HMS Tarlair. The work carried out at HMS Tarlair is of local and national interest. During its short period of operation, major technological advances were achieved, not only in the detection of submarines, and it was one of the first instances of collaborative work between civil and military scientists and researchers. The staff from HMS Tarlair were also responsible for fitting submarines with hydrophones and issuing special sets of hydrophones to the 1,500 drifters and motor launches in the Auxiliary patrol, which was the major part of the Navy's anti-submarine force. This is not only the story of the development of new technology, but also of the characters and personalities involved.
In 'Listen Up!' Diana Maxwell draws together for the first time local and national records with personal recollections of people who lived and worked around the base.
Little remains now of the base, but there is a leaflet available that guides you around Hawkcraig Point, the site of HMS Tarlair, which is on the Fife Coastal Path in Aberdour.
Organisation
This resource is held by:
Contacts
Resource Details
Resource Type
Secondary
Online/Digitised
Images/Photographs
Subject
Maritime (navy, lighthouses, commercial shipping, and fisheries)
Military & War
Science & Technology
WWI
Access
Open to public: see website for opening hours
Official Records
Other Information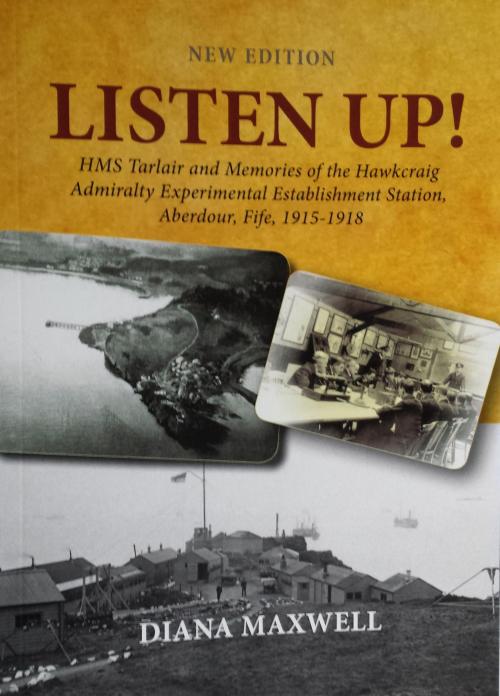 Entry last updated: April 25th, 2018
Please note that links to websites and catalogues are provided by the Organisations listed and not maintained by Scottish Local History Forum.