Society of Antiquaries of Scotland Archive
About this Resource
The Society of Antiquaries of Scotland was founded in 1780 by David Steuart Erskine, the 11th Earl of Buchan (1742-1829) and incorporated by Royal Charter in 1783. The Society is a charitable organisation registered in Scotland whose purpose is set out in the first of its Laws: "...the study of the antiquities and history of Scotland, more especially by means of archaeological research."
The Society's museum and library collections became National Property in 1858 and formed the basis of our collections. The library holds several series of papers and manuscripts from the Society in its archive.
Society Records: correspondence, minutes, agendas and circulars, financial records. These date from its founding in 1780 to 1974. More recent records are held by the Society.
Numbered Manuscript Collection: papers, drawings, photographs and journals on Scottish antiquities mostly donated to the Society by Fellows. In 1974 a large collection of mss, drawings and rubbings mainly relating to monuments were transferred on long term loan to the Royal Commission for Ancient and Historical Monuments (RCAHMS) and are listed on Canmore.
Internal manuscripts: letters and other documents principally concerned with the administration of the Society and its museum and library.
The library also holds the papers of William Smellie (first Keeper of the Society) and the scrapbook of Daniel Wilson (Secretary of the Society from 1845 - 1853).
Among the numbered manuscript collection are 8 volumes of Robert Riddell of Glenriddell's Collection of Scottish antiquities (1786-1792).
Organisation
This resource is held by:
Resource Details
Resource Type
Primary
Images/Photographs
Maps
Newspaper
Subject
Archaeology
Art
Ecclesiastical & Religious
Historic Buildings
Scots (Scottish dialects)
National Dress
Tartan
Geographical Coverage
Era
Ancient
Pre-1000 BC
1000 - 1099
1100 - 1199
1200 - 1299
1300 - 1399
1400 - 1499
1500 - 1599
1600 - 1699
1700 - 1799
1800 - 1899
1900 - 1945
1945 - 2000
Access
Open to public: see website for opening hours
Official Records
Location
National Museums Scotland Library
Other Information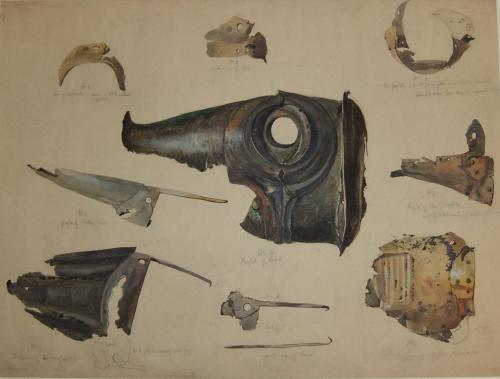 Entry last updated: November 18th, 2019
Please note that links to websites and catalogues are provided by the Organisations listed and not maintained by Scottish Local History Forum.