"I have devoted myself to the cause of the people" - Thomas Muir 1765 - 1799
When & Where
Wednesday, 11 December 2019 -

7:30pm

to

9:00pm
Parish Church Hall, St Mary Street, Kirkcudbright, DG6 4DN
Event Details
The remarkable story of Thomas Muir will be told by Graham Finch at the next meeting of the Society.
Thomas Muir, who died at the young age of 34, experienced an amazing life.
He always advocated independence for Scotland and having created links with United Ireland was falsely accused of sedition, found guilty and sentenced to be transported to Botany Bay.
He returned to Scotland via America, Mexico, Cuba, Spain and France, having had half his face blown off on the way.
Although he ended his life in poverty and obscurity, he is commemorated on the Political Martyr's Monument on Calton Hill and a window was installed in Cadder Parish Church to mark the 250th anniversary of his life. As well as there being a Thomas Muir walk there is also a Thomas Muir Festival.
Image is Anita Pates window in Cadder Parish Church
Costs
Free to members £3 visitors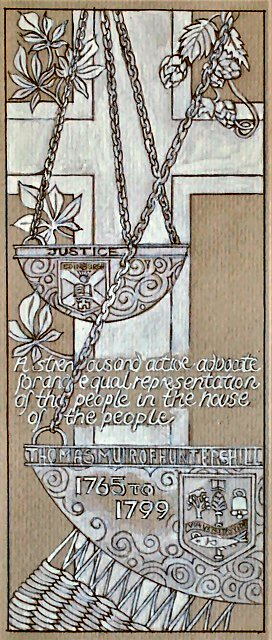 Disclaimer
Please note that you should check with the event organiser to confirm details of times and location - Scottish Local History Forum is not responsible for the events hosted by Member Societies.