Anglo-Scottish Migration and the Making of Great Britain, 1603-1762
When & Where
The University of Manchester
Tuesday, 29 July 2014 - 10:30am

to

Thursday, 31 July 2014 - 5:00pm
George Washington Browne Room, Edinburgh Central Library, George IV Bridge, Edinburgh, EH1 1EG
Event Details
Why, when some immigrant communities remain detached and isolated from their host societies for generations, do others integrate successfully? This appears to have been the experience of Scottish migrants to England in the early-modern period; their presence south of the border, while certainly remarked upon, did not attract the opposition visited upon other groups, such as the Jews or the Irish.
Based at the University of Manchester and partially funded by a grant from the Arts and Humanities Research Council, the research network 'Anglo-Scottish Migration and the Making of Great Britain, 1603-1762' has been exploring the nature of Scottish migration to England in the seventeenth and eighteenth centuries
This free exhibition presents the findings of the research network so far. It explores how many Scots travelled to England in this period, why they moved, where they went, what they did upon arrival and how they were received south of the border. The exhibition will conclude with a public talk. Attendees will also have an opportunity to access and edit an online, interactive 'wiki' database of Scots in England which has been constructed as part of the project.
Event Location
George Washington Browne Room
Edinburgh Central Library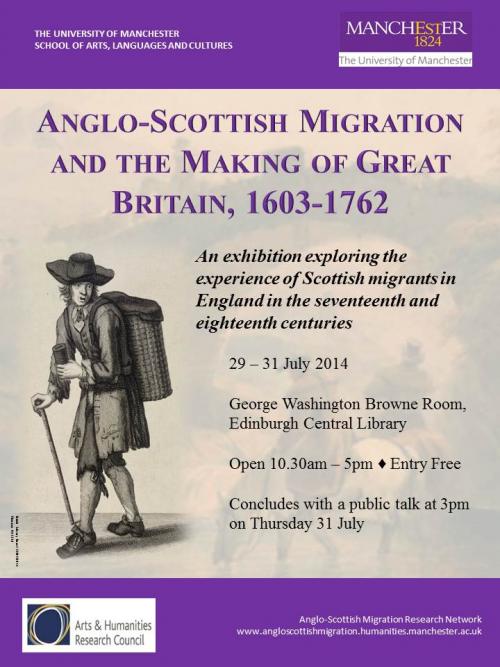 Disclaimer
Please note that you should check with the event organiser to confirm details of times and location - Scottish Local History Forum is not responsible for the events hosted by Member Societies.