Ayrshire Women
When & Where
Saturday, 9 October 2021 (All day)
online, online, online
Event Details
We are delighted to host our 2021 Conference online, considering 'Ayrshire Women' online, on Saturday 9th October. This FREE event introduces three short talks, with time for questions:
10:15am Chair's Welcome (Rob Close, Ayrshire Federation)
10.30 -11.00am 'Needle Crusaders: Women, Work and the Ayrshire Whitework Industry' Dr Sally Tuckett (University of Glasgow)
11.00-11.30am 'The Lady of the Big House in Ayrshire – changing times, changing roles' Professor Annie Tindley (University of Newcastle)
11.30-12.00noon 'The referee was generous enough to limit the ordeal': Women's football in Scotland, 1914-1930.'
Dr Fiona Skillen (Glasgow Caledonian University)
For more information and to reserve your place please email pamelamcintyre@rocketmail.com - a zoom link will be emailed to you nearer the event date.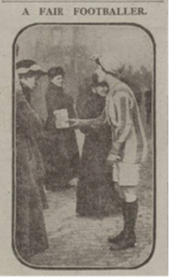 Disclaimer
Please note that you should check with the event organiser to confirm details of times and location - Scottish Local History Forum is not responsible for the events hosted by Member Societies.