The Ballantrae Smugglers
When & Where
Sunday, 30 July 2023 -

2:00pm

to

4:00pm
Ballantrae Community Centre, 36B Main Street, Ballantrae , KA26 0NB
Event Details
Ballantrae's smuggling story is fascinating but complicated and veiled in mystery and intrigue. In the 18th century Ballantrae was well known as a place where contraband was brought to shore in small boats and distributed locally or transported further inland. Over the years, stories had been passed from generation to generation by word of mouth. In 2014 work was done by Frances Wilkins, a well respected social historian and writer with a special interest in smuggling, to separate fact from fiction and brought together for the first time in a fascinating book "Ballantrae's Smuggling Story".
Since then Frances has continued to gather additional material from the National Archives and Customs House Record Books and has published "The Carrick Smugglers" covering a wider area of Ayrshire.
On Sunday 30 July between 2pm and 4pm in the Community Hall, Main Street, Ballantrae, Frances will present "The Ballantrae Smugglers" an open event being hosted by the Ballantrae History Group, involving a talk, her travelling exhibition and a book signing. As well as "Ballantrae's Smuggling Story" and "The Carrick Smugglers" copies of other books related to smuggling in the area will also be available.
Frances Wilkins was educated in St Andrews (school) & London (University), graduating in 1964. She then lived abroad arriving in Birmingham in 1973. During the period 1974-1989: she held various administrative posts at the University of Birmingham. From 1989 to the present day she is (and describes herself as) a wandering scholar whose research is funded 'to enhance our understanding of 18th century Scottish history'. She had been doing this through lectures, guided walks, exhibitions and books.
Speaking ahead of her talk in Ballantrae, Frances said:
"It is always pleasing to return to Ballantrae, the source of so many exciting smuggling stories. This will be my last visit because, after nearly 32 years of smuggling, I have decided to hang up my laptop".
Event Location
Ballantrae Community Centre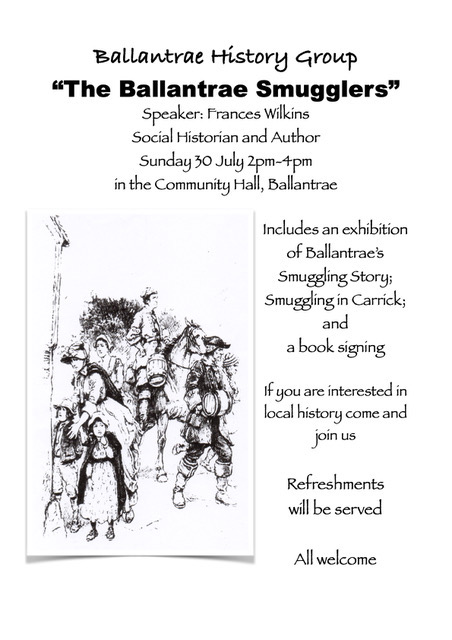 Disclaimer
Please note that you should check with the event organiser to confirm details of times and location - Scottish Local History Forum is not responsible for the events hosted by Member Societies.