Caring for the Poor in the Highlands: The Role of the GP
When & Where
Royal College of Physicians of Edinburgh
Wednesday, 12 May 2021 - 6:00pm
Online, Online, Online
Event Details
In 1845 the new Scottish Poor Law established a funded medical service for the registered poor. By 1852 the Physicians' Enquiry concluded that medical provision in the Highlands of Scotland was still seriously inadequate. In this presentation Dr Patricia Whatley will discuss the changing issues relating to the work of the general practitioner in the second half of the nineteenth century in the remote and isolated regions of the Highlands, culminating in 1913 in the establishment of the Highlands and Islands Medical Service.
Dr Whatley is Senior Lecturer in History and Information Studies at the University of Dundee.
This event will be streamed live online here: https://www.rcpe.ac.uk/heritage/caring-poor-highlands-role-gp . There is no need to advance book.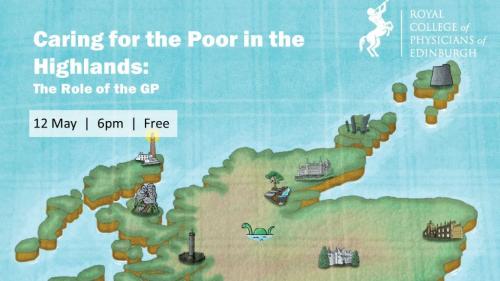 Disclaimer
Please note that you should check with the event organiser to confirm details of times and location - Scottish Local History Forum is not responsible for the events hosted by Member Societies.