Edinburgh Dance Scene during the Scottish Enlightenment
When & Where
Edinburgh Adult Education Programme
Repeats every week every Saturday until Sat Nov 12 2022 except Sat Oct 29 2022.
Saturday, 8 October 2022 -

2:00pm

to

4:00pm
Saturday, 15 October 2022 -

2:00pm

to

4:00pm
Saturday, 22 October 2022 -

2:00pm

to

4:00pm
Saturday, 5 November 2022 -

2:00pm

to

4:00pm
Saturday, 12 November 2022 -

2:00pm

to

4:00pm
225 Gilmerton Road, Edinburgh, EH16 5UF
Event Details
This historical dance course will introduce students to the historical and social background of formal dance repertoires in Edinburgh during the Scottish Enlightenment (from the end of the 17th – the beginning of the 19th century), as well as introduce them to some of the dance techniques used. Participants will learn about what was danced on the stages and in the ballrooms of the Scottish capital (and the identities of some of the city's most famous dancers), as well as have the opportunity to try out some of these dances for themselves in a friendly and informal environment.
HOW THE COURSE WILL BE TAUGHT: The course consists of 5 sessions, each 2 hours long. Each session will combine a theoretical overview (20 min), a Q&A section (10 min) and a practical dance element (90 min). The practical part of the session will start with warm-up and finish with cool-down exercises to prevent the risk of injury. Course notes with brief information points and dance descriptions will be provided. Where appropriate, video recordings of some of the steps taught in class will be made available to enable further practice at home.
WHAT STUDENTS CAN EXPECT TO LEARN: Students will learn about the development of the social and professional dance scene in the Scottish capital using period sources, historical accounts, and museum artifacts. Participants will be able to watch examples of recreated dances performed by experts and learn some of the dances and techniques characteristic of this period themselves. They will also have a chance to familiarize themselves with the latest research in dance history and gain a deeper understanding of the roles of dance in society as well as how modern dance styles emerged.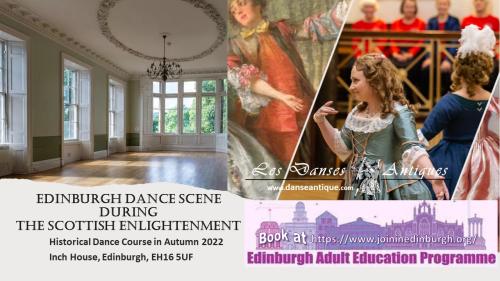 Disclaimer
Please note that you should check with the event organiser to confirm details of times and location - Scottish Local History Forum is not responsible for the events hosted by Member Societies.