Enlightened Dance: Dance at home and in public in Georgian Edinburgh
When & Where
The Georgian House, National Trust for Scotland
Wednesday, 17 November 2021 - 6:00pm
The Georgian House, 7 Charlotte Square, Edinburgh, EH2 4DR
Event Details
"I do not know any place in the world where dancing is made so necessary a part of polite education as in Edinburgh..." Edward Topham "Letters from Edinburgh: Written in the Years 1774 and 1775…"
It is difficult to imagine Scotland today without its music and dance: wild ceilidh nights, refined country dance balls, vigorous Highland dance displays. Was it the same in the time of Sir Walter Scott and Jane Austen? What were the popular dances of the time? Join us for a special lecture about Edinburgh Dance culture in the late 18th and early 19th century given by Georgian House volunteer and historical dance enthusiast, Alena Shmakova. Alena will be talking about the Edinburgh season, private and public balls, dance on the Edinburgh stage, social dance repertoire, its similarities and differences with modern practices, as well as important figures teaching and performing in the Scottish capital at the time of the Enlightenment.
More info and tickets: https://www.eventbrite.co.uk/e/enlightened-dance-dance-at-home-and-in-pu...
Dr Alena Shmakova is a dance historian based in Edinburgh. She has been teaching and performing historical dances as part of Les Danses Antiques (https://www.danseantique.com/) since 2013, focusing on social dances from the XVII-XIX centuries. Her research interests include Russian influences in the British dance repertoire of the 18th and 19th centuries and the Scottish dance scene during the Enlightenment period. Alena is a board member of the Early Dance Circle and a volunteer at the National Trust for Scotland.
As a teaser read Alena's blog post about some of the Edinburgh dancing masters on the National Trust for Scotland website: https://www.nts.org.uk/stories/dancing-in-georgian-edinburgh
Other information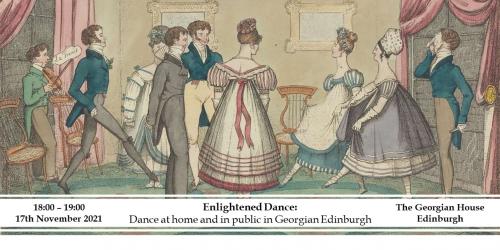 Disclaimer
Please note that you should check with the event organiser to confirm details of times and location - Scottish Local History Forum is not responsible for the events hosted by Member Societies.