Fife Gravestones Conference 2018, Kirkcaldy
When & Where
Saturday, 27 October 2018 (All day)
Kirkcaldy Old Kirk, Kirk Wynd, Kirkcaldy, KY1 1EH
Event Details
"We spend our years as a tale that is told."
So runs Mr. Russell's epitaph in Kirkcaldy Auld Kirk graveyard, and on Saturday October 27th Fife Gravestones Conference 2018 will be considering some of the tales about our forebears, their lives and their society that are revealed by their commemoration in death.
Gravestones and graveyards offer fascinating insights into past lives and the ways in which different societies have dealt with death and burial over the years. This year seven experts will share their insights which are guaranteed to be informative, thought provoking and entertaining, with the conference.
The speakers and their topics include:
- Dr. Christopher Dingwall: 'A Pleasure Ground of Graves: Scotland's Garden Cemeteries'
- Dr. Beth Thomas: 'The Black Death in Scotland and Beyond'
- Dr. Susan Buckham: 'How to Interpret an Historic Graveyard'
- Daniel Farrell: 'Fife Kirkyards and Epitaphs'
- Richard Brewster: 'Kinghorn Eco-Cemetery & Columbarium'
- Eleanor Young: 'Logie Kirk -Bringing A Graveyard to Life'
- Professor George Thomson: 'Research on Gravestone Inscriptions: an alternative approach'.
In addition to the talks, there will be an exhibition where stallholders will be offering books, CDs and other relevant products for sale.
The conference takes place at Kirkcaldy Auld Kirk, Kirk Wynd, Kirkcaldy, KY1 1EH on Saturday 27th October, from 10.00 a.m. till 4.00 p.m.
The cost for the day, which includes lunch and coffee as well as attendance at the talks, is only £12.
Tickets through Eventbrite at www.eventbrite.co.uk/e/fife-gravestones-conference-2018-tickets-45347323064 are £12.12 (includes small booking fee).
Non-Eventbrite ticket price is £12, and a place can be booked by sending a cheque, made out to Kirkcaldy Civic Society, to Rosemary Potter, 12 Hendry Road, Kirkcaldy, KY2 5JJ
For further details or stallholder enquiries please phone 01592 265499 or email kirkcaldycivicsociety@gmail.com or go to www.kirkcaldycivicsociety.org.uk
Other information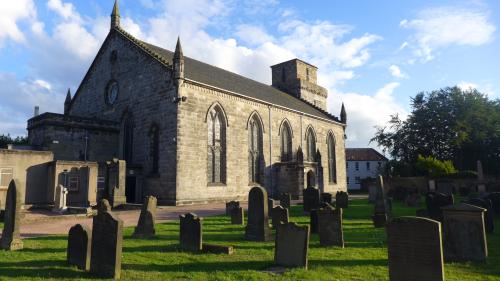 Disclaimer
Please note that you should check with the event organiser to confirm details of times and location - Scottish Local History Forum is not responsible for the events hosted by Member Societies.