Jacobite Perth: Crucible of a Revolution. A Healthy Walk through History. The Afternoon Walk.
When & Where
Wednesday, 18 May 2022 - 2:00pm

to

Tuesday, 24 May 2022 - 2:00pm
Salutation Hotel, 30-34 South Street, Perth, PH2 8PH
Event Details
See Perth as Bonnie Prince Charlie's Army saw it when they were there in September 1745, in a healthy walk through history.
When Bonnie Prince Charlie's Jacobite Army arrived in Perth on September 3rd 1745, they were little more than a disorganised rabble of less than two thousand Highlanders with no military experience. By the time they left a week later, they had been transformed into a reasonably disciplined army which a few days later inflicted a decisive defeat on Sir John Cope's British Army at Prestonpans. How was this metamorphosis achieved? How did the Prince succeed in recruiting his army's two Lieutenant Generals, Lord George Murray and the Duke of Perth, as well as a number of other leading members of the Perthshire nobility, during his stay? How, in short, did the town of Perth become the unlikely Crucible of the Rising of 1745?
These questions will be addressed by seeing Perth as the Jacobites saw it, in a walking tour starting and ending at the Salutation Inn, where the Prince and his senior officers dined during their stay, and walking up the river path to North Inch where the Jacobite soldiers were encamped and drilled.
Join us in "Jacobite Perth: Crucible of a Revolution. A Healthy Walk through History", telling the story of what happened in Perth during a cathartic moment in the history of Perth and the wider history of Scotland and Great Britain.
The guide is Michael Nevin, current Chair of the 1745 Association SCIO and author of 'Reminiscences of a Jacobite'.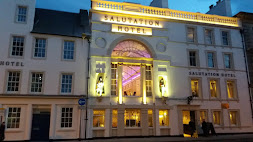 Disclaimer
Please note that you should check with the event organiser to confirm details of times and location - Scottish Local History Forum is not responsible for the events hosted by Member Societies.