From Lambskin to Latex: The History of Condoms
When & Where
Royal College of Physicians of Edinburgh
Wednesday, 25 May 2022 -

6:00pm

to

7:00pm
Royal College of Physicians of Edinburgh, 11 Queen Street, Edinburgh, EH2 1JQ
Event Details
Join us as Dr Kate Stephenson explores the strange and fascinating history of condoms.
First used in Europe in the 16th century in an attempt to prevent the spread of syphilis, historical condoms came in many forms from silk and linen to pig's gut and fish skin. This lecture will consider their varied and, at times, surprising history from the Dudley Castle finds through Boswell's diaries and London's condom wars of the 18th century to the invention of rubber protection in the 1850s.
Event Location
Royal College of Physicians of Edinburgh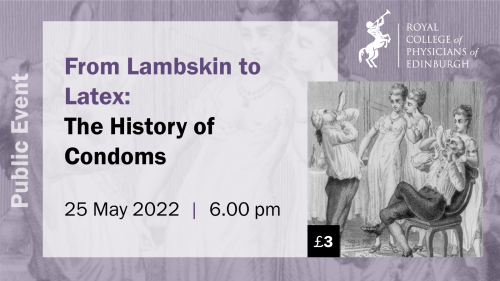 Disclaimer
Please note that you should check with the event organiser to confirm details of times and location - Scottish Local History Forum is not responsible for the events hosted by Member Societies.