Old Ways and New Roads: Roads, Bridges, Landscapes and New Towns on the Highland Circuit 1720 - 1832: Christopher Dingwall
When & Where
Friday, 17 March 2023 - 7:30pm
Breadalbane Community Campus, Crieff Road, Aberfeldy, PH15 2DU
Event Details
"Old Ways and New Roads : Roads, Bridges, Landscapes and New Towns on the Highland Circuit 1720-1832"
Presenter: Christopher Dingwall
Christopher's talk will look at the development of transport in the Highlands of Scotland between the building of the first military roads in the 1720s and the arrival of railways in the 1830s. This was a period of rapid change in the Highland landscape, involving the building of bridges, the diversion of roads and the establishment of new settlements along the route followed by the ever-increasing number of tourists who followed a circuit through the Southern Highlands taking in the great designed landscapes associated with Inveraray Castle, Taymouth Castle, Blair Castle and Dunkeld House. Particular attention will be paid to the impact of these developments on the Taymouth Castle estate.
Costs
Free to members. Non members £4
Event Location
Breadalbane Community Campus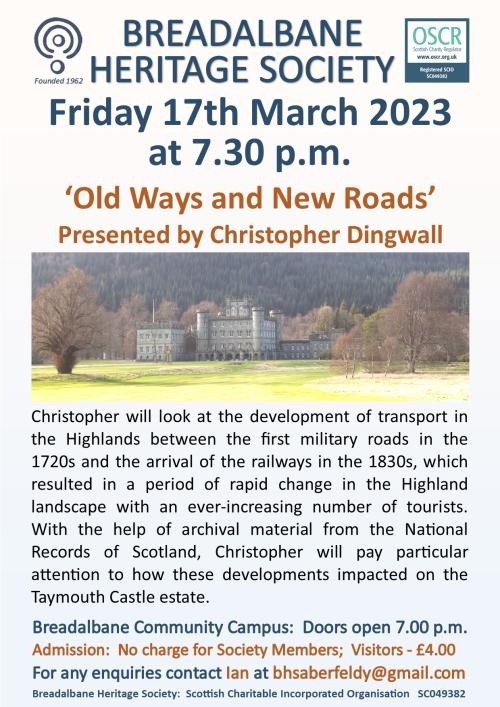 Disclaimer
Please note that you should check with the event organiser to confirm details of times and location - Scottish Local History Forum is not responsible for the events hosted by Member Societies.