Prosthetics: From Maker to User
When & Where
Royal College of Physicians of Edinburgh
Thursday, 27 September 2018 - 6:00pm
9 Queen Street, Edinburgh, EH2 1JQ
Event Details
Speaker: Sophie Goggins, Curator of Biomedical Science, National Museum of Scotland
Edinburgh has a strong history in prosthetics research and development. Over the past 40 years, National Museums Scotland has established a world class collection of prosthetics with examples from the 1960s, for children affected by thalidomide, to contemporary pieces that reflect a move towards personalisation and the flexibility of modern materials. This talk will review the history of prosthetics in Edinburgh and emerging technologies that are shaping the field. How is the museum representing user stories in its displays and what is the importance of using patient voice in exhibitions?
You can pay on the door or advance book at rcpe.ac.uk/historyevents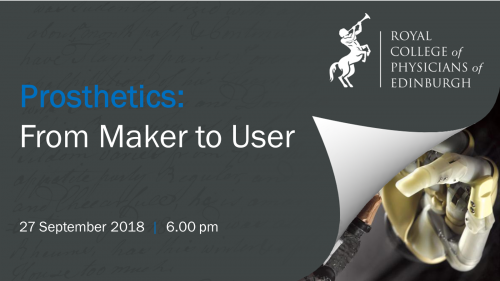 Disclaimer
Please note that you should check with the event organiser to confirm details of times and location - Scottish Local History Forum is not responsible for the events hosted by Member Societies.