Roads, Bridges, Designed Landscapes and Planned Villages on the Highland Circuit 1720-1832
When & Where
Wednesday, 20 April 2022 -

7:30pm

to

10:00pm
The Black Bull Inn, Main Street, Gartmore, FK8 3RW
Event Details
Roads, Bridges, Designed Landscapes and Planned Villages on the Highland Circuit 1720-1832
By Christopher Dingwall.
The Black Bull Inn, Gartmore
Wednesday 20th April 2022 7.30pm for an 8pm start £5. Children free.
Rapid and dramatic changes occurred in the Scottish landscape in the late 18th century and early 19th century in the wake of the Jacobite unrest and the defeat of the clans at Culloden, especially in the Highlands, where roads were poor and travel was difficult. Landowners collaborated with the Government in the creation of new roads and in the building of bridges to replace hazardous fords and ferries, opening the way for economic development and tourism. At the same time the opportunity was taken to resettle the rural population, often in planned villages, and to expand the designed landscapes which served as the setting for the houses of the nobility and gentry.
This illustrated talk will focus attention on four great designed landscapes which lay on what came to be known as the Highland Circuit or 'petit tour' followed by early tourists – taking in Inveraray Castle, Taymouth Castle, Blair Castle and Dunkeld House. Their story will be told with the help of original documents and other pictorial and cartographic evidence.
Although it was not on the Highland Circuit, Gartmore lay on a traditional droving route, so witnessed the regular passage of cattle on their way to the annual trysts at Falkirk. While it was little visited by tourists, Gartmore has its own story to tell, of the bridging of the River Forth, of the Graham family's building of Gartmore House in the early-to-mid-18th century to replace Gartartan Castle, of extensive enclosure and planting, and of the founding of the planned village of Gartmore.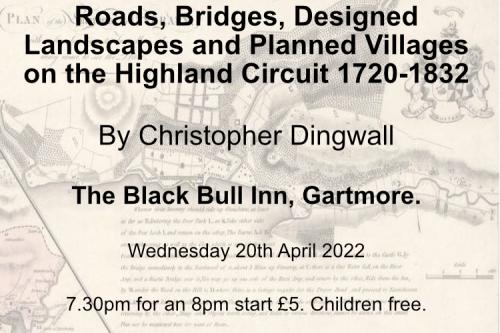 Disclaimer
Please note that you should check with the event organiser to confirm details of times and location - Scottish Local History Forum is not responsible for the events hosted by Member Societies.