Secondary Schools in 20th Century Edinburgh (Online and Inperson event)
When & Where
Wednesday, 16 November 2022 -

7:00pm

to

8:15pm
Augustine United Church, 41 George IV Bridge, Edinburgh, EH1 1EL
Event Details
Lindsay Paterson will review the experience of secondary schools in 20th century Edinburgh, considering their contributions to both social divisions and intellectual excellence. Linday has been a leading light in Scottish education, retiring recently as Professor of Education Policy, School of Social and Political Science, University of Edinburgh. His main academic interests lie in education, civic engagement and political attitudes. He has contributed to many debates in Scotland since the early 1990s on education, on social change, and on politics. He is a Fellow of the British Academy and a Fellow of the Royal Society of Edinburgh.
THIS EVENT IS BEING LIVE-STREAMED VIA ZOOM FOR THOSE WHO CANNOT ATTEND IN PERSON.
To register:
via Zoom: https://www.eventbrite.co.uk/e/online-talk-secondary-schools-in-20th-cen...
In person: https://www.eventbrite.co.uk/e/in-person-talk-secondary-schools-in-20th-...
Costs
£5 for non-members; free for members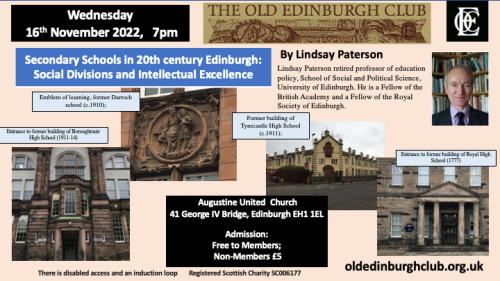 Disclaimer
Please note that you should check with the event organiser to confirm details of times and location - Scottish Local History Forum is not responsible for the events hosted by Member Societies.