The Sproat Family of Borgue.
When & Where
Wednesday, 8 February 2023 -

7:30pm

to

9:00pm
online, Online, online
Event Details
With Sproats all over the world claiming to be related, John Sproat decided to try and find the connections between them all. As can be imagined he has found this fascinating and has collated his research into his presentation for the Society meeting, on February 8th at 7.30. This meeting will be streamed. Visitors welcome, £3. Anyone wanting to register for Zoom please contact -secretary@kirkcudbrighthistorysociety.com. by Saturday February 4th.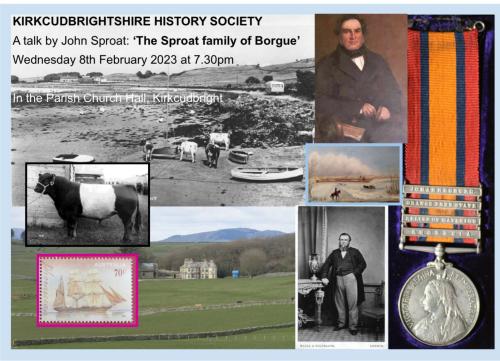 Disclaimer
Please note that you should check with the event organiser to confirm details of times and location - Scottish Local History Forum is not responsible for the events hosted by Member Societies.