Tales of Tartan
When & Where
Sunday, 25 June 2023 - 2:00am
Bannockburn House, (off the A9 0.5 miles from the Bannockburn Interchange), Stirling, FK7 8EY
Event Details
Bannockburn House Presents Tales of Tartan
We are delighted to welcome you to a special afternoon discussion of three extraordinary tartan garments each with their own story to tell!
About the Event & Speakers:
Our journey will be presented by Peter MacDonald & Rebecca Olds, experts in the fields of tartan, weaving, and historical dress.
The study of historical tartan garments encompasses many elements from practical life and socioeconomics to the very expression of self and wider culture. Since the 18th century there have been important changes in the way tartan is viewed, utilized, and worn. We'll be exploring the foundation of these changes by examining three special garments from this period.
The Isabella MacTavish Fraser wedding gown is the only extant example of a woman's tartan gown from the pre-1800 period. As a costume historian, Rebecca Olds has studied the cut and construction of clothing, fashion, and use of textiles across the 18th century. She advocates 'learning through reconstruction' as a research methodology by which dress historians can test their understanding of historical cut and construction techniques. In 2019 she worked with the Inverness Museum and the National Museums Scotland as part of the exhibition "Wild and Majestic: Romantic Visions of Scotland" to study and recreate this iconic tartan gown. She will be telling us the tale of Isabella and her gown, the intricacies of its cut and construction, and her experiences getting into the mind of the mantua maker (dressmaker) as she recreated it with a team of skilled artisans. The opportunity to study and recreate this gown helped inspire her current research at the University of Glasgow into women's clothing in 18th century Scotland with a focus on the trade skills of female garment makers. For more on Rebecca and her work please visit her complete biography here
The Glen Affric tartan is a rectangular piece of fabric found in a peat bog some 40 years ago. It was recently carbon dated and found to have been most probably made between 1500-1600 CE making it the oldest surviving specimen of "true" tartan in Scotland. It is part of the exhibition, "Tartan" at the V&A Dundee Museum which runs until Jan. 2024. Peter Eslea MacDonald, Head of Collections and Research at the Scottish Tartan Authority, is a world-renowned tartan historian who specializes in 18th and early 19th century tartan. His work has been instrumental in the efforts to study this important piece of Scottish culture. He will tell us the story of this special object and how it helps us to understand the history of tartan and its profound cultural significance. In addition to being an internationally recognized tartan historian, Peter is also a highly skilled weaver who has recreated historical tartans and is a leading authority on the subject of our final tale, the famous weavers, Wilson & Sons of Bannockburn. The Wilsons have a special place in our hearts here at Bannockburn House. They were savvy textile entrepreneurs starting in the mid-late 18th century and became instrumental in the adoption of standardized tartan colors, weaving patterns, and naming. They also called Bannockburn House home and left a lasting impact on this important building. As one of the families in the house's history, we are always keen to find out more about them and explore the vast impact of their dedication to the production of high-quality tartans on Scotland and how we view tartan today. For more on Peter and his work please visit his complete biography here
About the Location:
This exclusive event will take place in the Laigh Hall of Bannockburn House under the stunning carved plaster ceiling. Described as a "rare survivor" of its time, the house has many interesting architectural features including the "Laigh Hall" and the "Blue Room" ceilings, reputed to be the work of Houlbert and Dunsterfield; two highly skilled craftsmen who had been commissioned by Charles II to produce ornate ceilings within Holyrood Palace. The house also played a prominent role in the history of the 1745 Jacobite Rising and boasts a bedroom where Bonnie Prince Charlie stayed as he convalesced and planned military campaigns. Historical tour of the house, including a living history presentation, will be offered on a limited basis as part of the VIP admission package.
For Tickets Please Visit Our Site Here!
For more detail, please visit our blog here!
Date & Times:
June 25th, 2023
General Admission doors open at 1:00 PM. Talks begin at 2:00 PM. Duration 4 hours.
VIP Admission doors open at 11:00 AM for tour by ticket only.
Format:
Academic talks with Q&A, plus afternoon tea and home baking. Most suitable for ages 16+. Exclusive event, seating limited to 40 total.
Ticketing Information:
VIP Admission: £35
Includes:
Early entry to house for talks and VIP historical tour with living history interpretation
Choice of seating
Tea, coffee and home baking
Pre-event meet and greet with speakers
Access to shop and gardens
VIP Pre-Event Doors open at 11:00 AM, tour starts promptly at 11:30 AM.
Limited to 15 seats.
General Admission: £25
Includes:
General Admission entry to house for talks
General admission seating
Tea, coffee and home baking
Access to shop and gardens
Doors open at 1:00 PM, talks start at 2:00 PM.
Limited to 25 seats.
Online Availability: We are trying to organize this option. In the meantime please contact events@bannockburnhouse.scot with "Tales of Tartan online booking" in the subject line. We will make a note and contact you when/if this option becomes available. Thank you!
Event Location
(off the A9 0.5 miles from the Bannockburn Interchange)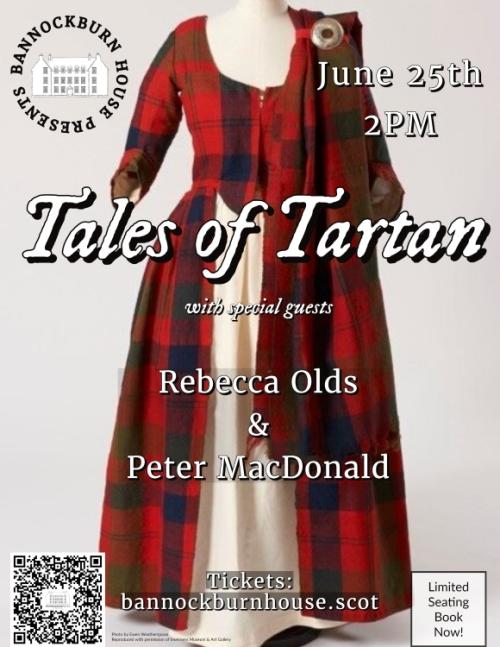 Disclaimer
Please note that you should check with the event organiser to confirm details of times and location - Scottish Local History Forum is not responsible for the events hosted by Member Societies.