Thirlestane Castle Volunteers Wanted
When & Where
Tuesday, 2 May 2023 (All day)
Thirlestane Castle, Lauder, TD2 6RU
Event Details
We are looking to welcome new volunteers to our team to help tell the stories of this great castle and we hope to attract people who share our love of history and Scottish heritage. If this sounds like you - we would love to hear from you.
We have positions for volunteer guides. We receive five star reviews for our guided tours which are delivered with passion and often humour by our guides who help to bring to life the castle's long history. If you have an interest in history and enjoy engaging with the public, you may like to become a tour guide.
We also have positions for volunteers helpers. Our volunteer helpers are friendly and welcoming of our visitors. They support tour guides and then provide hospitality to visitors in the tearoom and gift shop. We are looking for people who enjoy engaging with a range of different people and who are good communicators.
We're also really excited to introduce a new volunteer role. If you love being outdoors, Thirlestane Castle has over 500 acres of parkland to enjoy. As you can imagine with an estate of that size, much work goes into its upkeep to ensure it always looks its best for our visitors. This role includes planting and weeding, grass cutting and general grounds maintenance.
All our volunteers are offered benefits in acknowledgement of the time and commitment given.
More information at www.thirlestanecastle.co.uk/volunteers/
Costs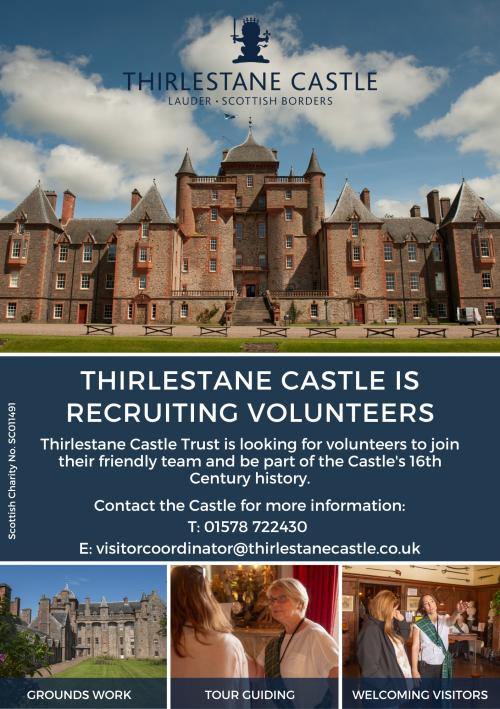 Disclaimer
Please note that you should check with the event organiser to confirm details of times and location - Scottish Local History Forum is not responsible for the events hosted by Member Societies.