Thomas Muir Symposium 2018
When & Where
Wednesday, 7 November 2018 -

12:45pm

to

4:30pm
Boclair Academy , Inveroran Drive , Bearsden , G61 2PL
Event Details
'THE PEOPLE'S VOICE': Scottish Political Poetry, Song and the Franchise 1832-1918
You are warmly invited to attend the 8th in the annual series of Friends of Thomas Muir symposia on Wednesday 7th November 2018.
This year the main focus will be on the work of a current cross-institutional research project The People's Voice: Scottish Political Poetry, Song and the Franchise 1832-1918, funded by the Carnegie Trust. The project covers the various roles that poetry and song cultures played in Scottish popular politics during the Victorian and Edwardian years.
The afternoon includes talks and music and speakers include:
Professor Gerard Carruthers (University of Glasgow), with his 'Reflections on the People's Voice Project'.
Duncan Hotchkiss (University of Stirling) on 'Rediscovering Voices in the Gardyne Collection of Scottish Poetry' (Mitchell Library).
Professor Kirstie Blair (University of Strathclyde) on 'Working Class Poetry and Politics'.
There will also be contributions by Boclair Academy Pupils, including musical performances.
Venue:
Boclair Academy
Inveroran Drive
Bearsden
G61 2PL
Time: 12.45pm - 4.30pm
Parking is available.
Please RSVP to FOTM Secretary Don Martin at email address: dwmmartindon@live.co.uk.
Friends and guests are very welcome to attend, please let Don have names of those attending.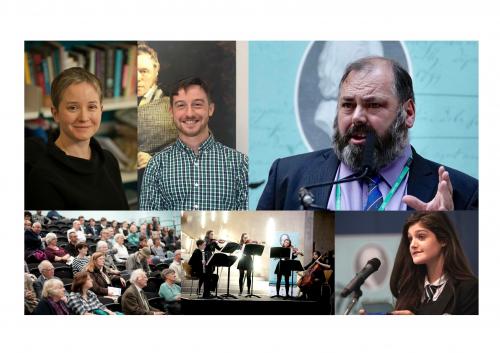 Disclaimer
Please note that you should check with the event organiser to confirm details of times and location - Scottish Local History Forum is not responsible for the events hosted by Member Societies.