Tongland Abbey Excavations - recent findings
When & Where
Wednesday, 13 February 2019 -

7:30pm

to

9:00pm
Parish Church Hall, St Mary Street, Kirkcudbright, DG6 4DN
Event Details
Tongland Abbey was established by Alan, Lord of Galloway, for the Premonstratensian order in 1218. It was a daughter house of Cockersand Abbey near Lancaster. Very little physical evidence of the abbey now survives; only a short length of wall and a doorway in the ruin of the old parish church.
The garden of Mansewood (the former parish manse) lies immediately south of the old parish church. Following a geophysical survey of the lawn area of the garden in 2015, trial trenches have been excavated in the garden over the last three years. The primary objective of the survey and trial excavations has been to establish more precisely the location and general layout of the abbey. Excavations in 2017 revealed structural evidence in the form of wall foundations, which may relate to the west range of the abbey cloister.
A further season of trial excavations was carried out in 2018 from mid April to mid December, primarily to investigate further the possible west range foundation. Six new trenches were excavated, and the talk will present the most recent findings as well as outlining the known history of the abbey with reference to other monastic houses in Galloway and elsewhere.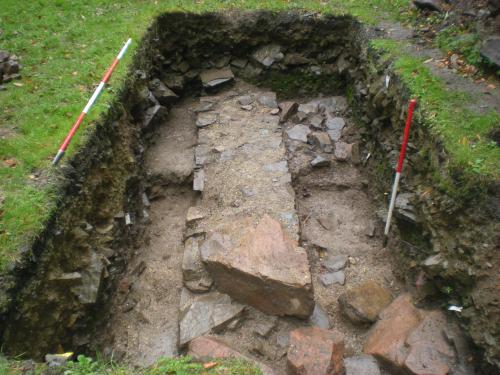 Disclaimer
Please note that you should check with the event organiser to confirm details of times and location - Scottish Local History Forum is not responsible for the events hosted by Member Societies.