What About The Women?
When & Where
Maryhill Burgh Halls Trust
Wednesday, 7 February 2018 -

6:30pm

to

8:00pm
Maryhill Burgh Halls Trust, 10-24 Gairbraid Avenue, Glasgow, G20 8YE
Event Details
Maryhill Burgh Halls Trust are delighted to host the "Lost Glasgow – More Than Just Memories" exhibition from 27th November 2017 until 27th February 2018, on loan from Glasgow City Heritage Trust.
To celebrate our local heritage and illuminate the exhibition's themes, we are presenting a series of talks delving into Glasgow's dynamic history. The famous Victorian stained glass windows on display at Maryhill Burgh Halls depict Maryhill workers and trades in the busy Victorian era, and tell the story of one of Glasgow's historic burghs. However, only two of the original 20 panels portray women. This conspicuous lack of representation sparked the interest of local Glasgow Women's Library and Maryhill Burgh Halls Trust volunteer, Anabel Marsh. She did a lot more digging, and her talk entitled "What About the Women?" highlights the forgotten histories of women in Maryhill and Glasgow, dating back to the 18th century. Join us on Wednesday 7th February to hear Anabel share the stories of Glasgow women in industry, the arts and politics throughout the ages.
Date: Wednesday 7th February 2018
Time: 6.30pm - 8pm
Ticket price: £5.00
For tickets please visit the Eventbrite page clicking the link here.
Tea and coffee refreshments will be available.
For more information to book tickets please email or call Maryhill Burgh Halls Trust
Contact
Maryhill Burgh Halls Trust
Event Location
Maryhill Burgh Halls Trust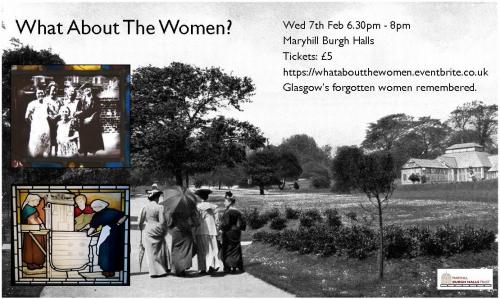 Disclaimer
Please note that you should check with the event organiser to confirm details of times and location - Scottish Local History Forum is not responsible for the events hosted by Member Societies.