Winter 282: The Munros in Winter
When & Where
Tuesday, 15 February 2022 -

7:30pm

to

10:00pm
The Black Bull Inn, Main Street, Gartmore, FK8 3RW
Event Details
Winter 282:The Munros in Winter
Black Bull Inn, Gartmore.
Tuesday 15th February
7.30pm for an 8pm start - £5
EXTRAORDINARY PHOTOGRAPHS & EXTRAORDINARY VIDEO
The winter of 2019-20 was far stormier than average, with a non-stop procession of westerlies blowing-in off the Atlantic. From December 2019 to March 2020 Glasgow's Kevin Woods climbed Scotland's 282 Munros in a single winter season, an incredible journey which takes in around 2,000km of mountain terrain, and pairs the demands of walking long distances with Scotland's biting winter weather.
By the beginning of February 2022 Kevin had already climbed 3/5th's of the summits, and was maintaining a pace toward the fastest ever winter completion. But with no let up in the hostile conditions, and with the worldwide Covid-19 pandemic of 2020 catching up with him, he was close to not finishing at all. However, just three months after starting out, and standing on Ben Lomond, he accomplished his astonishing vision which he had been relentlessly working towards for years.
SUPPORT YOUR COMMUNITY
SUPPORT YOUR BLACK BULL HUB AND PUB
SUPPORT YOUR HERITAGE SOCIETY
For further info please call 07979 552 106
Other information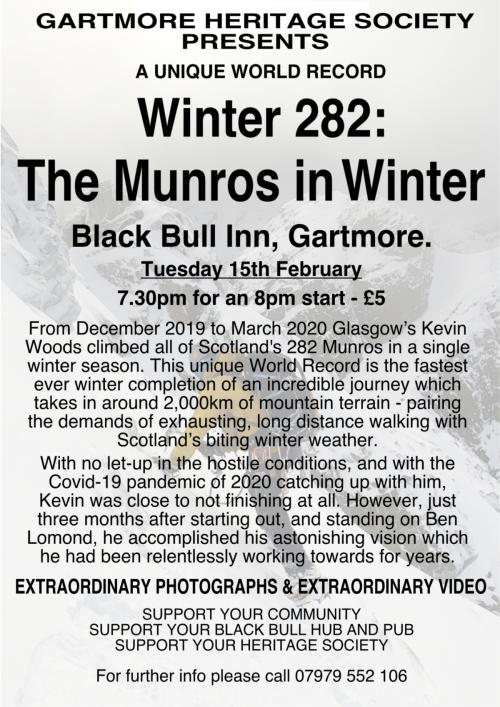 Disclaimer
Please note that you should check with the event organiser to confirm details of times and location - Scottish Local History Forum is not responsible for the events hosted by Member Societies.