East Dunbartonshire Archives (EDLC)
About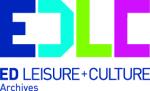 East Dunbartonshire Archives collects and preserves the records of East Dunbartonshire for the benefit of the public. Our collections date back to the 15th century, and include manuscripts, photographs, maps, plans, films and sound recordings.
Access to the archives is free and everyone is welcome to visit us to consult the historical records.
If you are unable to visit we can carry out simple searches of up to 30 minutes on your behalf.
Opening hours: 10am to 5pm Monday to Friday, late night opening on Tuesday until 8pm (prior booking essential).
Location
East Dunbartonshire Archives , EDLC, William Patrick Library,, 2-4 West High Street, Kirkintilloch, G66 1AD
Links
Leaflets
Other information
The Archives are managed by East Dunbartonshire Leisure & Culture Trust on behalf of East Dunbartonshire Council. EDLC is a registered Scottish Charity No SC041942.
Events List