Prestoungrange Arts Festival
About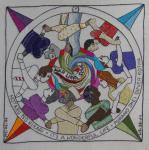 The Prestoungrange Arts Festival has been telling the Scottish heritage of Prestonpans since 1997....
The Scottish Diaspora Tapestry is to have its World Premiere at Prestonpans May 31st/ June 8th. Consisting of 150 panels (with another 100 panels anticipated to be completed by March 2015!), the Tapestry tells of the new homes and achievements of emigrant Scots. See www.scottishdiasporatapestry.org
Also on display are 60 murals and 12 published books, most recently a novel on the Battle of Pinkie by Sharon Dabell and another covering all the battles of East Lothian: "Our Blood Stain'd Fields" by Arran Johnston. Also on display is the 104 metre Battle of Prestonpans Tapestry created in 2010.
But the history of Prestoungrange is not only about battles! Over 1000 years of industrial history is also captured in the murals. See www.prestoungrange.org
All the artworks and social enterprise are located at the Prestoungrange Gothenburg arts and crafts centre with its commemorative 30 ft totem pole based on the foreshore.
Location
The Prestoungrange Gothenburg, 227/ 229 High Street, PRESTONPANS, EH32 9BE
Contact
Anne Taylor/ Carol Black/ Gillian Hart/ Arran Johnston
Other information
The centre welcomes visits from groups for murals tours/ talks/ school visits etc. We can include lunch/ supper if required at The Prestoungrange Gothenburg. Annual re-enactments of the Battle of Prestonpans which Bonnie Prince Charlie won take place each September 21st. Each October we commemorate the 81 witches put to death in Prestonpans in the late 16th/ early 17th centuries.
http://www.prestoungrange.org/prestonpansexperience/the_prestonpans_expe...
Events List