Guide to Londubh Burial Ground, Poolewe
About this Resource
The Londubh Burial Ground, Poolewe, together with its ruined chapel ('Inverewe Old Church') and Pictish symbol stone are recognised to be very special. They are thought to date back prior to any local written history, into at least the medieval period and possibly, given the circular enclosing bank in places beyond the present wall, to the earliest Christian period. In 1997, they were accorded the status of a Scheduled Ancient Monument by Historic Scotland.
This website can be used to find a grave within the burial ground. It also helps understand something of the history and stories of the burial ground which reflect the life and times of generations of Londubh and Poolewe folk.
Organisation
This resource is held by:
Resource Details
Resource Type
Secondary
Online/Digitised
Images/Photographs
Maps
Subject
Archaeology
Ecclesiastical & Religious
Historic Buildings
Monument/Graves
Era
1200 - 1299
1300 - 1399
1400 - 1499
1500 - 1599
1600 - 1699
1700 - 1799
1800 - 1899
1900 - 1945
1945 - 2000
2000 - present
Official Records
Other Information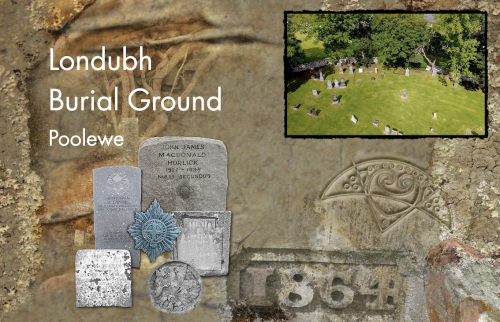 Entry last updated: December 29th, 2020
Please note that links to websites and catalogues are provided by the Organisations listed and not maintained by Scottish Local History Forum.