Dalkeith History Society
About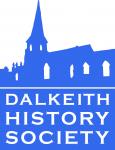 Dalkeith History Society was set up in 1975, and over the years has built up a substantial collection of artefacts, documents and photographs. In 2016 The History Society moved into Dalkeith Museum, located at the rear of the historic Corn Exchange, once the largest in Scotland, which provides an open, welcoming public space where the Dalkeith story is revealed to both visitors and local residents.
The old market town of Dalkeith has a unique and fascinating past and Dalkeith History Society and Dalkeith Museum exist to preserve the history and heritage of Dalkeith. The museum provides dedicated display space and exhibits the collection under a number of local themes including: Industry; Society; Agriculture; Architecture; Leisure and Education; Domestic Life; Crime; Banking and the Forger's Story; Old Railways of Dalkeith; World War 1; Local Bricks and Brickworks; and Local Heroes - the famous people born in Dalkeith.
Temporary, specialised exhibitions are also staged at intervals throughout the year.
The Museum is run by Dalkeith History Society and a team of local volunteers. The Museum was recently awarded Accreditation by Museums Galleries Scotland (MGS) after meeting the UK Museum Accreditation Standard.
Dalkeith History Society organises a varied programme of talks by guest speakers, which takes place on the Second Monday of each month from October to May at 7:30pm in the Dalkeith Baptist Church, North Wynd, Dalkeith EH22 1JE.
Dalkeith History Society meetings are open to all, though non members are asked to make a contribution of £2. The current annual membership subscription is £10.00.
Location
c/o Dalkeith Museum , 61 St Andrew Street , Dalkeith, EH22 1BP
Links
Leaflets
Events List
| Date | Title | Town/City |
| --- | --- | --- |
| 12 February, 2024 - 19:30 | Gorebridge and Penicuik Heritage Regeneration | Dalkeith |
| 11 December, 2023 - 19:30 | Battle of Dunbar 1650 | Dalkeith |
| 15 November, 2023 - 19:00 | The Secret Diary of the First World War | Dalkeith |
| 13 November, 2023 - 19:30 | 18th Century Village | Dalkeith |
| 25 October, 2023 - 19:00 | The Southfield Farm Diaries | Dalkeith |
| 9 October, 2023 - 19:30 | Heart of Glass | Dalkeith |
| 27 September, 2023 - 19:00 | In Time with the Past | Dalkeith |
| 13 December, 2021 - 19:30 | The Jacobite Occupation of Edinburgh 1745 | Dalkeith |
| 8 November, 2021 - 19:30 | HMS Tarlair & Memories of Hawkscraig Admiralty Experimental Establishment | Dalkeith |
| 11 October, 2021 - 19:30 | The Last Spike | Dalkeith |
| 13 April, 2020 - 19:30 | Witchcraft | Dalkeith |
| 9 March, 2020 - 19:30 | The Briggers | Dalkeith |
| 10 February, 2020 - 19:30 | HMS Tarlair & Memories of Hawkcraig Admiralty Experimental Establishment | Dalkeith |
| 13 January, 2020 - 19:30 | Scottish Breeds of Dogs | Dalkeith |
| 9 December, 2019 - 19:30 | Soutra Medieval Hospital | Dalkeith |
| 11 November, 2019 - 19:30 | 100 Years of Learning at Kings Park Primary Dalkeith | Dalkeith |
| 14 October, 2019 - 19:30 | Scotland - Her Story | Dalkeith |
| 13 May, 2019 - 19:30 | A.G.M. Dalkeith History Society | Dalkeith |
| 8 April, 2019 - 19:30 | Buccleuch Estates | Dalkeith |
| 11 March, 2019 - 19:30 | Bridgescapes | Dalkeith |
| 1 March, 2019 - 10:00 | Widnell & Stewart Carpet Factory Eskbank | Dalkeith |