Dunfermline Historical Society
About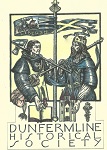 The Dunfermline Historical Society organises talks and visits for people with an interest in local and national history.
The talks programme runs from September to May and visits usually take place in April and June. We vary our visits between day trips and longer, week-end trips to explore places further from Dunfermline.
Meetings are held in the Abbey Church Hall, Abbey Park Place, Dunfermline, on the third Thursday of each month and start at 7:30 pm.
Visitors are charged a fee of £3.00 per meeting and are made very welcome.
Location
Dunfermline
Events List
| Date | Title | Town/City |
| --- | --- | --- |
| 21 May, 2020 - 19:30 | Woodlands and Warfare in Dalgety Bay | Dunfermline |
| 16 April, 2020 - 19:30 | Bonnie Prince Charlie | Dunfermline |
| 19 March, 2020 - 19:30 | History Meets Fiction in Border Brothers | Dunfermline |
| 20 February, 2020 - 19:30 | Dunfermline: WW1 through to 1918 Election | Dunfermline |
| 16 January, 2020 - 19:30 | Burns, Fakery and Forgery | Dunfermline |
| 17 October, 2019 - 19:30 | James Watt | Dunfermline |
| 19 September, 2019 - 19:30 | Scotland and the Slave Trade | Dunfermline |
| 16 May, 2019 - 19:30 | Dunfermline Town Planning | Dunfermline |
| 18 April, 2019 - 19:30 | Quite Happy - the Diary of James Fyffe, a Cattle Dealer | Dunfermline |
| 21 March, 2019 - 19:30 | The Railway Atlas of Scotland - 200 Years of History | Dunfermline |
| 21 February, 2019 - 19:30 | Ye Jacobites by Name | Dunfermline |
| 13 December, 2018 - 19:30 | The Face of Scotland's Witchcraft | Dunfermline |
| 15 November, 2018 - 19:30 | Bridgescapes | Dunfermline |
| 18 October, 2018 - 19:30 | The Moat Pit of Culross | Dunfermline |
| 19 October, 2017 - 19:00 | A Soldier of the Rough Wooing | Dunfermline |
| 21 September, 2017 - 19:30 | Scottish Suffragettes | Dunfermline |
| 16 February, 2017 - 19:30 | 5000 Years of Kinneil | Dunfermline |